The End isn't Near….It's already upon us. So,Where do I begin? If your looking for great character development, brilliant acting or fantastic dialogue's, this movie is not for you. Also the plot is a bit too simple to be enjoyed by a thinking mind and the characters pretty one dimensional, directly borrowed from many worn out disaster flicks. Scene after scene occurs where the director wants to have these emotionally-charged scenes where you're affected but, because there's no foundation, so you really don't care. The only noteworthy performance is that from Chiwetel Ejiofor as Adrian Helmsley.
But apart from all that, where the movie actually kicks ass is the jaw dropping unprecedented scale of destruction that you see unfolding before your very eyes. The visual effects are beyond imagination. The cinematography is near perfect. The film has a 2hr38 min runtime but it flies by as director goes on destroying one city after another. Earthquakes tearing apart freeways or huge tidal swallowing entire cities has never been shot better.
You got to love Emmerich's storylines. It's as trivial as earth going to get destroyed, destroy it but end it on a happy note. Leading it is John Cusack who gives a decent performance and the last time I remember seeing something similar was way back in Con Air. Amanda Peet plays his ex-wife who has pretty much nothing to do other than tag along with Cusack. Another fine performance comes from Chiwetel Ejiofor as the scientist who sounds the alarm on impending doom and becomes a voice of reason amongst the chaos. There's admirable performances from Oliver Platt as the White House chief of staff Carl Anheuser, Danny Glover as the President caught up in the greatest crisis ever to face humanity and Thandie Newton as his daughter, but the guy who steals the show yet again is Woody Harrelson (Zombieland).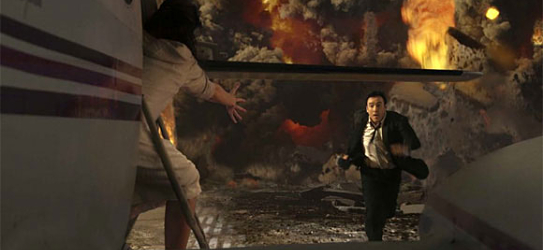 There has been a lot of speculation and prophecies surrounding the date 21st December,2012. The movie starts off with the aim of trying to show what really is the cause, but somewhere once the disasters start occurring, you just want to see more and more cities go down to the earth and the whole idea of 2012 or even for that matter, the purpose behind the film gets lost in the sad pleasure of seeing places getting destroyed that the length of the film doesn't matter in the end.

If you're a fan of these types of movies, than chances are, you know Roland and you exactly know what you're paying to see when you walk into the theater. The film is a triumph for its genre and will not disappoint those looking for to see some major destruction.

[rating:8/10]