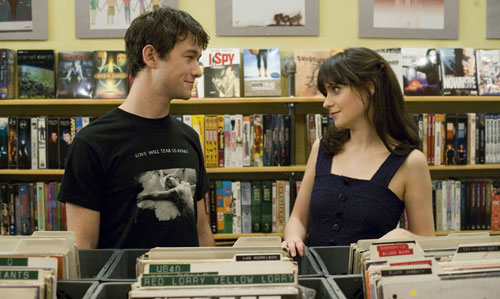 She Loves the Smiths. Holy Shit.
In Life, there are never happy endings and thats why this movie does justice to the romantic comedy genre. Its a sort of a reminder that all boy meets girl stories do not end as expected and there is always never any explanation why things go wrong. 500 Days of Summer is no ordinary romantic story.
Just like the narrator says, "Its a story of boy meets girl", but only Tom (Joseph Gordon-Levitt) believes that the moment where he first meets her was coincidence and not just something random. He loves to romanticise and has this theory that there is this "Girl of his dreams" out there who is meant for him and him only and that girl is Summer (Zooey Deschanel). Now, Summer on the other hand, doesn't believe in a boyfriend-girlfriend relationship and doesn't believe in love either. She believes that by being just friends she could have more fun out of a friendship than worrying about the pressures of being in a relationship.
What ensues is a 500 day relationship between the two and with lots of ups and downs. This movie with its non linear style of story telling by Director Marc Webb seems every effective in showing 500 days of Tom's life as if it was told from his memory. There is a good balance between the happy and sad moments, thus you start seeing the initial days of the relationship mirrored with the days between 200 and 400 for atleast an hour. The last half hour shows the last 100 days and how it was so different from the first 400.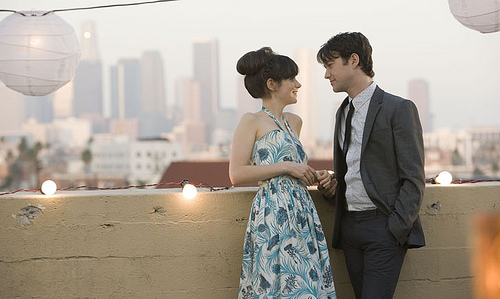 There are a lot of random jumps in days, but there is always a reason why that jump was made and how it affected Tom later on. It may seem some events don't make sense but thats what non linearity is all about and thats what makes this film interesting till the very end. Its very unpredictable and theres lots of funny bits even in the dull moments. But, all this leads to some heart wrenching moments for Tom and thats when we really feel for him. It all just boils down to that scene where Tom and Summer are sitting in their favorite spot and all his questions (mostly the why?) are answered. You tend to wonder if Summer is all that sweet and fun loving girl that we know from the early part of the movie or is she just like any other girl. Maybe, it was all just something Tom had in his head and there was nothing really between them. After all, just because she loves the smith, that does not become a basis for a relationship.

Joseph Gordon-Levitt really comes into his own as Tom, providing a thoughtful depth to his portrayal of the likable but pained protagonist. As Summer, Zooey Deschanel has the more difficult role since we don't get a view of her inner feelings the way we see Tom's. However, she uses her big blue eyes and her sweet smile to good effect. The supporting cast of Geoffrey Arend and Chloe Moretz were outstanding too. Marc Webb has done a fine job in trying a different approach to this genre and it has paid off really well. Some of the scenes where Tom just walks away on a lonely road and then suddenly everything around him turns out to be sketched just like how he would draw it being an architect is just one of the many ways Marc uses to explain the scene.

500 Days of Summer is different and not the usual romantic movie. The music alternates between the Smiths or Regina Skeptor mostly placed at the most perfect time to blend in with a scene. This is a movie that will always be close to your heart for a long time.

[rating: 10/10]