The Ghost Writer is very straight forward in the way it approaches each character and the story itself. It may not be a masterpiece of any sort but Roman Polanski has made something special here.
The story is centered around the process of an ex-British Prime Minister writing his memoirs through the use of a ghost writer. This ex-Prime Minister is accused of being overly friendly with the U.S. and may have even committed war crimes? Sound familiar? Yes, Adam Lang, played convincingly by Pierce Brosnan, has numerous similarities to Tony Blair. The audience falls in love with Pierce Brosnan because he is scared of the unknown just like us.
Ewan McGregor plays the nameless ghost, actually a replacement for the original ghost, who died under suspicious circumstances. Its very odd that through out the film Ewan McGregor calls himself the Ghost and no name is said anywhere in the film. Polanski channels Hitchcock by making every character either a suspect or, at a minimum, suspicious. The use of water, rain, stark surroundings, cozy double-edged dialogue, and even a note passed in a key moment all evoke the master of suspense and thrills.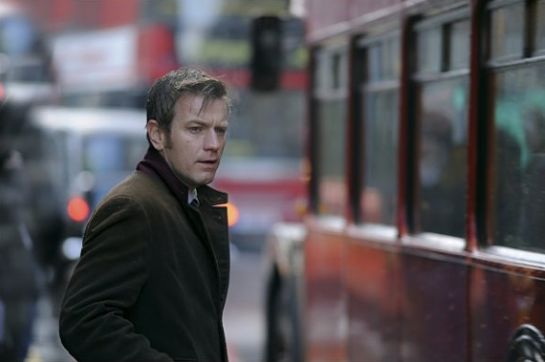 The movie makes everyone look good. The film-making doesn't rely on elaborate big sets or over dramatic music, with the story being the main focus. Saying that, the settings are wonderful and the homes & hotels are just beautiful. It's a great lesson for modern film makers who really are shown that you don't need giant budgets and spending to create tension and excitement. The simplicity around which the movie has been made has to be appreciated.

Given that he's in every scene in this film, McGregor effectively carries the film. Though much of his time is spent alone, he's at his best with others and like any well-written character, he's different depending on the company. Opposite Brosnan's Adam Lang, he's the polite, patient professional adviser. With Olivia Williams's Ruth, he's more confident, perhaps because he's a single attractive male outsider whose reluctance to take up this job means he has nothing to lose but his contract, and because Ruth herself is clearly and curiously a league above her husband in intelligence, charm and wit.

With a smart, snappy, dialogue-driven script co-authored by Harris and Polanski, the film is a stroke of genius on every level. From the magnificent acting subtleties by the entire cast, to the framing of shots and the haunting final scene, the film is a testament to Polanski's talent.

[rating:8/10]